Calderwood Hall Gallery on North Haven Island began business in 1984. A special energy existed here in the middle of Penobscot Bay, with the ongoing launching of new lobster boats, a relatively new ferry, a school with innovative programs.... And Calderwood Hall, in its own quiet way, was very much a part of this.
Tradition and made-by-hand thrived here, including the oldest racing sailboat class in the country – the North Haven dinghy – and J.O.Brown's Boatyard, each over 100 years old. All this twelve miles out to sea.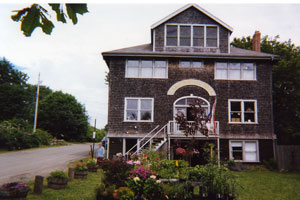 Calderwood Hall featured artists/craftspeople, young and old, from North Haven, Vinalhaven, and the surrounding islands, complemented by work from the mainland. It offered a wide variety of traditional items: wooden toys, knitwear and other clothing, an exceptional selection of hooked rugs and jewelry – some using local granite – , books of fiction, nonfiction, and poetry from both the local Historical Society and off-island, hand-decorated furniture, photographs, pottery and much more – even toy soldiers.
This beautiful space was, until 1960, the movie theater, dance floor, basketball court, and all-purpose community center for what is now a population of about 350. Its history is still recorded on its floor and walls. Its original flavor remains. How many galleries have basketball court markings on the floor, and a large horsedrawn hayrake and small sleigh sitting in their midst? Calderwood Hall also boasted a 1903 Ideal Clarion working woodstove and enough wagon wheels to roll the three and a half storey building the 100 yards down to the water. This "first rate art gallery... displays an unusual collection of arts and crafts from the very talented hands of local craftspeople. The quality of their merchandise is superior," said Island Hopping in New England.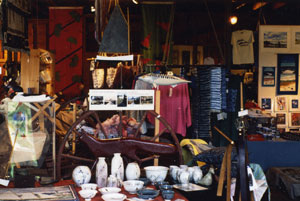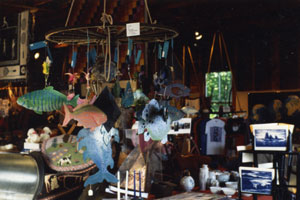 The gallery was started in 1984 by Herbert Parsons and his then wife, Jane, as an outlet for their own work. A painter and graphic artist, Herb has been an exhibitor at Maine's popular Common Ground Fair and Maine Coast Artists Gallery in Rockport, as well as a member of the Art Department at the University of Maine/Augusta's Thomaston Center. He knew most of his customers, obviously enjoyed them, and his artwork provided the backbone of the offerings: oil paintings, black and white nature prints, t-shirts, notecards. In recent years, his large landscape drawings and paintings, up to eight feet long commanded the most attention. "...The skies in his long, narrow drawings succeed as ominous, fantastic portents." (Maine Times) "...[His] rather gentle landscape drawings feel charged with meaning." (Kennebec Journal) But the quality of Herb's work was fully shared by his fellow exhibitors', whether basketry, Christmas stockings and ornaments, the finest woven clothing, or one-of-a-kind lampshades.
Exhibition space on the second floor displayed Herb's paintings and sculpture. It also allowed art classes, writing workshops, and the like to be offered, in addition to an occasional concert by such noted Maine folk performers as Gordon Bok, Anne Dodson, and Cindy Kallet, Maine rock 'n' roller Cindy Bullens, and talks by members of the community, such as former presidential candidate Pete DuPont, native North Havener and geology professor Jim Pendleton, and Maine Congresswoman Chellie Pingree.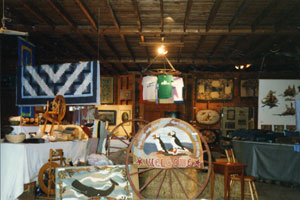 This was clearly a gallery to be savored for its art, its atmosphere, and its history.